While COVID will be with us for some time yet, Australia is entering summer in an enviable position. We're among the most vaccinated countries in the world, and our economy – while still burdened by inequality – has recovered from the darkest days of the COVID-19 recession.
Lockdowns appear to be a thing of the past. And while emerging COVID-19 variants demand vigilance, the policy conversation leading into the 2022 Federal Election is now turning to what a post-pandemic Australia will look like.
In this year of transition, the McKell Institute has been looking to the future – while ensuring our COVID-19 management and recovery is implemented equitably.
2021 began with a fight over casual worker rights
 We started the year by pushing for a fairer go for casual and vulnerable workers.
In February, we testified to the Senate arguing the Federal Government's Industrial Relations 'Omnibus Bill' was a bad deal for vulnerable workers, and did little to help eradicate wage theft and exploitation from the Australian workplace.
In Victoria, we published Insecure Work & Portable Entitlements: A Solution for Australia. In this timely report, we argued that all workers should have access to basic entitlements like sick leave, and detailed our plan to make this a reality.
As housing prices skyrocketed, we published The Crumbling Australian Dream, a deep-dive into housing policy which called for housing to be considered a human right in Australia.
We launched our proposal to increase the use of community batteries to drive down power prices and lower emissions – a policy subsequently picked up by the Federal Opposition.
Our scrutiny turned to the flagging vaccine rollout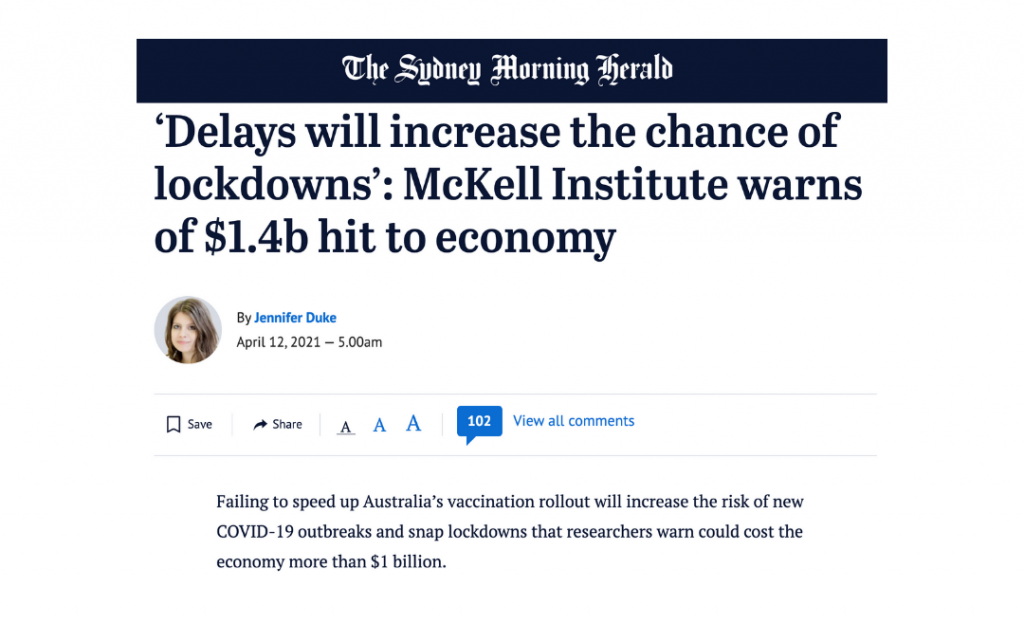 But as winter neared and the pandemic continued, our scrutiny turned to the flagging vaccine rollout.
Our research found unnecessary delays  to the vaccine rollout cost billions and billions, and we made the case the community pharmacies must be a part of the vaccine distribution strategy.
Realising the pandemic was sticking with us, we pushed for universal paid pandemic leave– a form of which was soon adopted.
Key COVID recovery policies demanded oversight, too. Remember the Early Access to Superannuation Scheme? Our hunch in 2020 that this policy would be disastrous proved right: this year our research found that the scheme cost workers over $3500 each – or $4.7 billion nationally – in lost super earnings, and only accelerated the growth in house prices.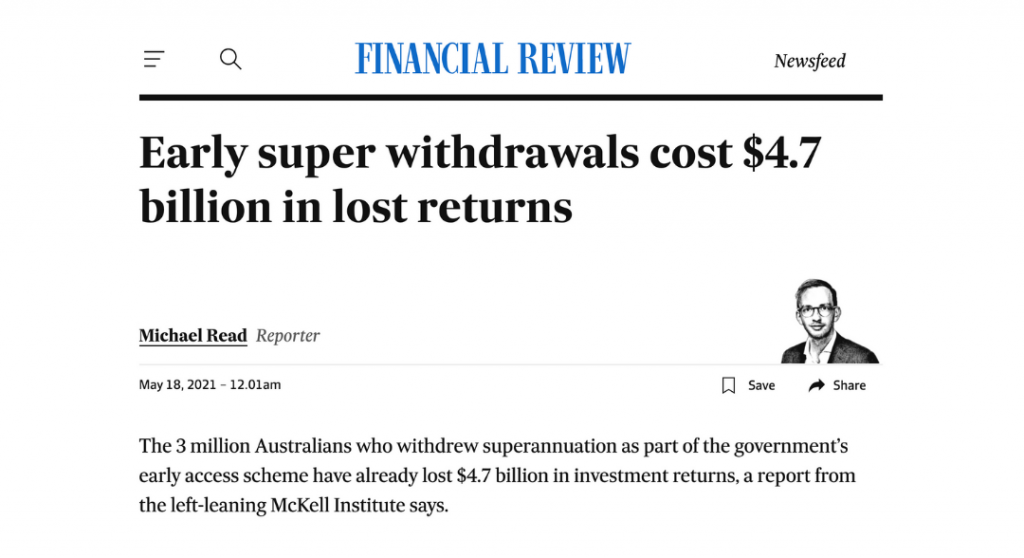 The budget was a missed opportunity to get wages moving
Then came the budget, which once again was a miss opportunity to protect the most vulnerable workers and get wages moving again.
We argued that the budget ignored growing calls to combat wage theft. And its wages forecast suggested real wages would move backwards in the coming years – reflecting the misguided wage suppression tactics this government has implemented, which we identified in our report Stuck in Neutral.
We detailed plans for quality Australian jobs
In the wake of the budget, came a focus on jobs – quality jobs.
In Build it Here, we found that the New South Wales Government's decision to off-shore construction of essential transport infrastructure had cost the country 4000 manufacturing jobs – jobs that were forgone despite the quality of these assets being substandard.
While many of us have been able to work from home during COVID, tradies and shift-workers have still had to be out on the job. In Investing in Tradeswork & Shiftwork, we advanced practical ideas to drive down the cost of living for workers in Western Sydney, arguing for toll relief and 24/7 childcare.
And we focused on addressing inequities exposed by COVID
But as in 2020, COVID-19 continued to expose many fault lines in Australian society and in our economy throughout 2021.
It showed how reliant all of us are to a good internet connection. In a major McKell Institute study commissioned by Telstra, however, we identified a significant digital divide in Queensland, which was causing too many children to miss out on their education, and too many elderly Queenslanders to be socially excluded.
COVID showed how small businesses were vulnerable to economic shocks, which is why McKell made the case for a HECS style small business recovery loan scheme.
COVID showed how essential timely, well targeted public expenditure is: our report Bridge Over Troubled Waters detailed how Victoria's infrastructure spend during 2020 was just about all that kept the state out of a major recession.
And it showed that frontline workers were often exposed to the worst unsocial behaviour. Our analysis of NSW crime statistics showed that retail workers, in particular, were being harmed simply for doing their job.
As Spring broke, we offered big ideas for a fairer post-COVID Australia.
As Spring broke, we turned our attention to advancing big ideas for a fairer post-COVID Australia.
In Rethinking Redundancy, we argued that Australia's redundancy framework needs a revamp, to ensure all Australian workers are treated with dignity and have a pathway back to work if they face dismissal.
In Funding Rare Disease Therapies in Australia, we explained how Australians living with rare diseases don't always get the treatment they deserve, and that a review of the National Medicines Policy provided an opportunity to change that.
We explained how Free TAFE, a policy announced by the Federal Opposition, would be a masterstroke for our economic recovery.
We went to South Australia – a frontline of the insecure work crisis – to push for changes to local legislation to ensure more SA workers can find secure, meaningful and better paid work as COVID-19 subsides.
As Christmas neared, we released two final major reports for the year.
In Mortgaging our Future McKell partnered with leading housing economists at the University of South Australia to undertake the most robust economic modelling on 'Super for Housing' to date. It found that the policy would make house prices explode, while leaving most Australians worse off.
And in Calling for Help we partnered with Lifeline to document the sharp rise in crisis calls for Victorians during the pandemic. Our report showed the value of crisis helplines, and the need to bolster their funding into the future.
We also saw big wins on key issues McKell has been advancing for years, particularly in the area of wage theft. In October, the Fair Work Commission decided to introduce a minimum wage floor in the horticulture award – a key recommendation of McKell's 2020 Blue Harvest report, a major expose into exploitation which catapulted $3/hr wages into the national conversation.
Director of Policy Ed Cavanough explaining McKell's 'Blue Harvest' report, 7am podcast.
2022 will be a year in which competing visions for the future of our country will dominate our public debate.
And the McKell Institute will be there, continuing to put forward our ideas for fairer, more prosperous, more sustainable Australia.