On the 19th July, Victorian Premier Daniel Andrews announced that residents in Metropolitan Melbourne and the Mitchell Shire will soon be required to wear face coverings in public or risk a fine. On the same day, the NSW Deputy chief medical officer Jeremy McAnulty called on residents to "redouble their efforts to stop the virus spreading" by wearing masks in public where social distancing is not possible while cases resulting from "community transmission continue to be reported".
This follows the Federal Government officially recommending the use of masks in situations where social distancing isn't possible, such as public transport.
Melbourne's mandatory face covering rule could be the first of a series in Australia, with it also an option in the high density Sydney area as cases rise in NSW.
In the United States, and in the United Kingdom, mandatory rules about mask wearing have caused debate, frustration, and resulted in widely shared falsehoods from those opposed to wearing a mask.
We list some of the common arguments against wearing masks, and why they should be debunked. Feel free to share this piece with someone if they repeat one of these statements.
Myth 1: Masks don't actually protect you from the virus
FALSE
The World Health Organisation (WHO) states that not only do masks assist for 'source control' – giving it to other people, they also assist in individual 'protection' – not getting it yourself. According to Professor Morawska of Queensland University of Technology, "Masks stop the virus-laden aerosols exhaled by an infected person entering the indoor space and also protect others from inhaling it".[1]
The WHO, in taking into account the available studies evaluating pre-and asymptomatic transmission, recommends that Governments should encourage the general public to wear masks in specific situations and settings.[2]
The new WHO guidance on masks is one of the pieces of information that Australian Governments are using when changing advice on their effectiveness.
Myth 2: You need an expensive N95 mask, cloth masks are useless
FALSE
The Victorian government over the weekend required the use of face coverings, not specifically masks. According to Premier Andrews, 'anything face covering is better than nothing at all'.  This is consistent with a growing body of expert evidence. The UK Royal Society states that homemade cloth face masks can contribute to reducing transmission of COVID-19.[3] According to the US Centre for Disease Control, a bandana is better than nothing.[4]
Myth 3: Masks cause oxygen deficiency
FALSE  
This myth has received an official response by the WHO. This is a dangerous example of misinformation spreading via social media. According to the BBC, a misleading diagram has been re-edited and shared thousands of times on Facebook.[5] The theory states that the masks prevent oxygen from entering your nose and mouth, causing a deficiency in the levels of oxygen
"This simply won't happen unless there is an air-tight fit and you rebreathe your air," says Prof Keith Neal, an infectious disease expert.[6]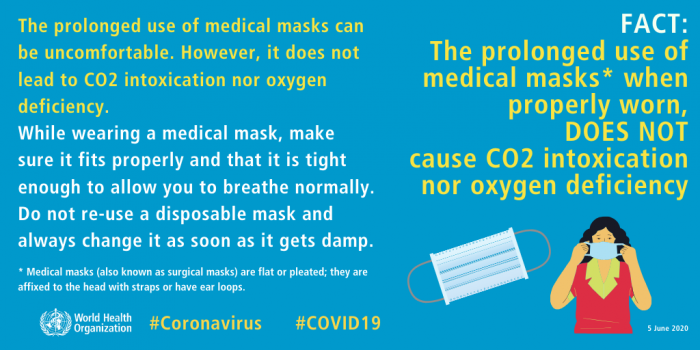 WHO Advice countering the myth on oxygen deficiency.
Myth 4: You only need to wear a mask if you're vulnerable to COVID-19
FALSE
This is wrong on two fronts. First, not being vulnerable doesn't make you immune from COVID-19. People of all ages can be infected by the COVID-19 virus.[7]
Second, the virus can be transmitted asymptomatically. That means you can get the disease, and although you may recover well, you may pass it on inadvertently to someone who is vulnerable and will need to go into intensive care.
Myth 5: You only need to wear a mask if you have symptoms
FALSE 
Both the WHO and Australian Department of Health have acknowledged that the virus can be transmitted asymptomatically. That means that you can pass on the virus to others. Not only that, the mask also protects you from being transmitted the illness.
If you do have symptoms, the Australian government and state health authorities recommend that you get tested.
Find the COVID-19 respiratory clinic nearest to you.
---
It's always recommended that you follow official government advice from the public health experts. Generally that means wear a mask if you can't socially distance. If in Melbourne or Mitchell Shire, it will be compulsory.
Further, the WHO and officials maintain the position that masks are not effective alone, they must be coupled with social distancing, good hygiene and avoiding public spaces.
[1] https://www.abc.net.au/news/health/2020-07-11/the-who-says-airborne-spread-of-covid-19-possible-what-now/12443268
[2] https://www.who.int/emergencies/diseases/novel-coronavirus-2019/advice-for-public/when-and-how-to-use-masks page 6
[3] https://rs-delve.github.io/reports/2020/05/04/face-masks-for-the-general-public.html
[4] https://www.cdc.gov/coronavirus/2019-ncov/prevent-getting-sick/diy-cloth-face-coverings.html
[5] https://www.bbc.com/news/53108405
[6] https://www.bbc.com/news/53108405
[7]https://www.who.int/emergencies/diseases/novel-coronavirus-2019/advice-for-public/myth-busters?gclid=Cj0KCQjw3s_4BRDPARIsAJsyoLM3B64km1bcs7jW3WI0638mWpfF1aY8I1C79Y19lN3mBs4ioh5bTloaAo-XEALw_wcB