By Samantha Hutchinson. Published in the Financial Review.
Read the article on the AFR website here. 
Victoria, NSW and the ACT have been under-funded by the federal government on infrastructure payments relative to their population share for the past five years, an analysis from the Labor-aligned McKell Institute has found.
While the gap between the population size and federal funding closed for Victoria this year, NSW's level of underpayment relative to its population size has worsened for each of the past three years.
The McKell Institute has urged the federal government to prioritise consistency in payments, a week after NSW Premier Dominic Perrottet claimed the state had been dudded in federal infrastructure allocations compared with Victoria and Queensland.
McKell argues that funding needs to improve in both states to ensure the smooth transition of workers from one project to the next.
"Victoria is getting more [per capita] now but they were getting less in the past, but what we really need to see is a steady and consistent approach to funding to make sure states preserve jobs and skills and aren't starting from scratch every time a new project starts," McKell Institute chief executive Michael Buckland said.
"NSW was getting roughly the same as its population for a short while but it has seen a fall lately. It should increase slightly in the long run."
He said construction and big infrastructure programs had traditionally been seen as a pursuit of a conservative government, despite hard evidence that infrastructure investment improved transport access, which boosted employment figures and productivity. He said this attitude needed to change across the government.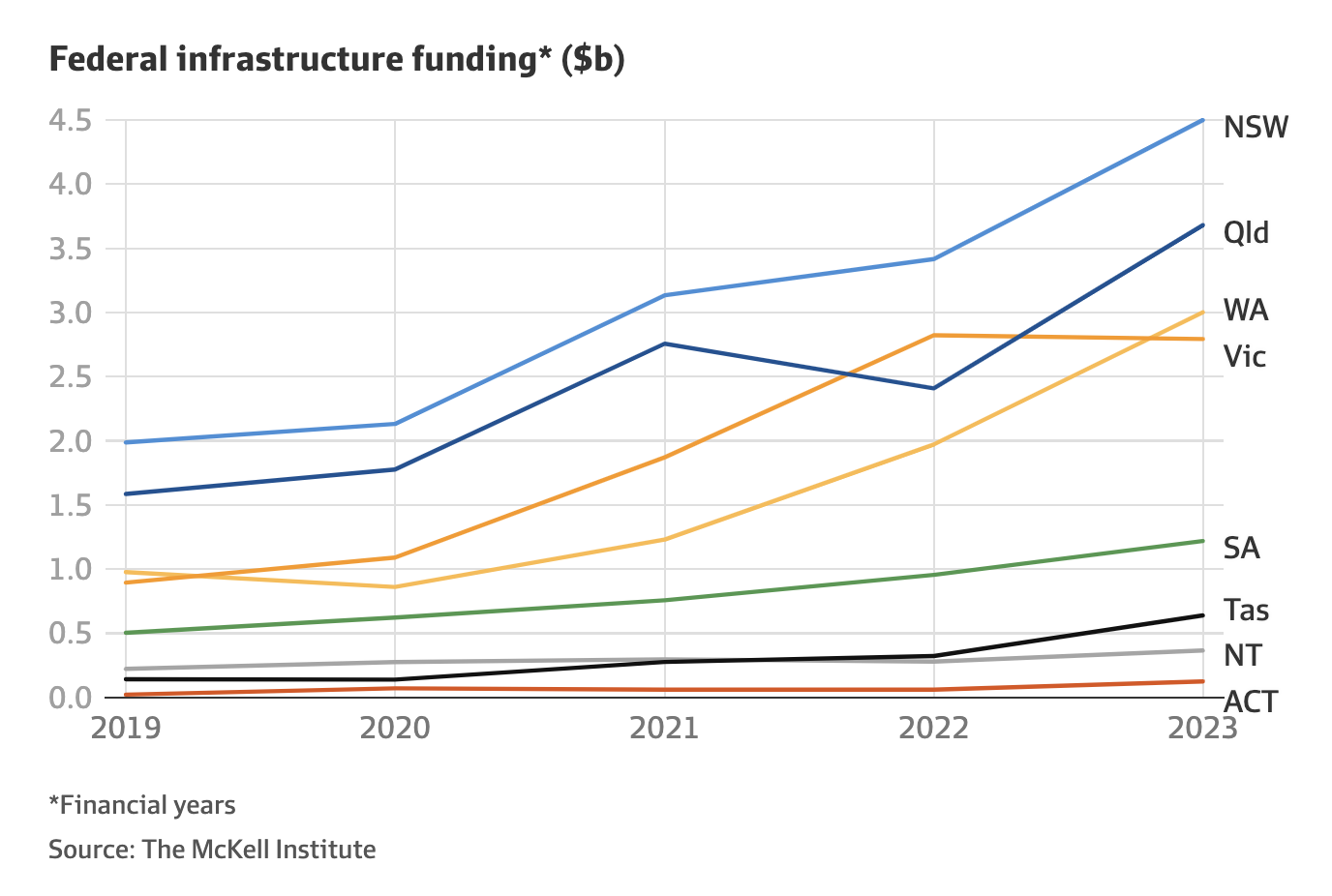 Super funds should be tapped
Amid an uncertain economic outlook, the policy house is also encouraging the federal government to consider tapping the $3.3 billion superannuation sector for public-private partnerships as a way to keep up spending without taking on more debt.
"Fiscal constraints need not prevent investment. Australia's world-class superannuation sector is primed to invest in infrastructure, if only more opportunities can be made available." Mr Buckland said.
"We just don't want to see an opposition that goes to an election with a promise to cancel a bunch of projects … keeping up the pipeline suits [an opposition's] interest just as much as everyone else's."
Victoria heads to a state election at the end of the month and the NSW government faces an election, which is expected to be a close race, in March next year.
The most recent raft of infrastructure funding announcements infuriated NSW MPs who claimed the state was shortchanged and is being forced to underwrite a bigger and bigger share of its infrastructure pipeline, even as the state continues to plough its own cash into projects.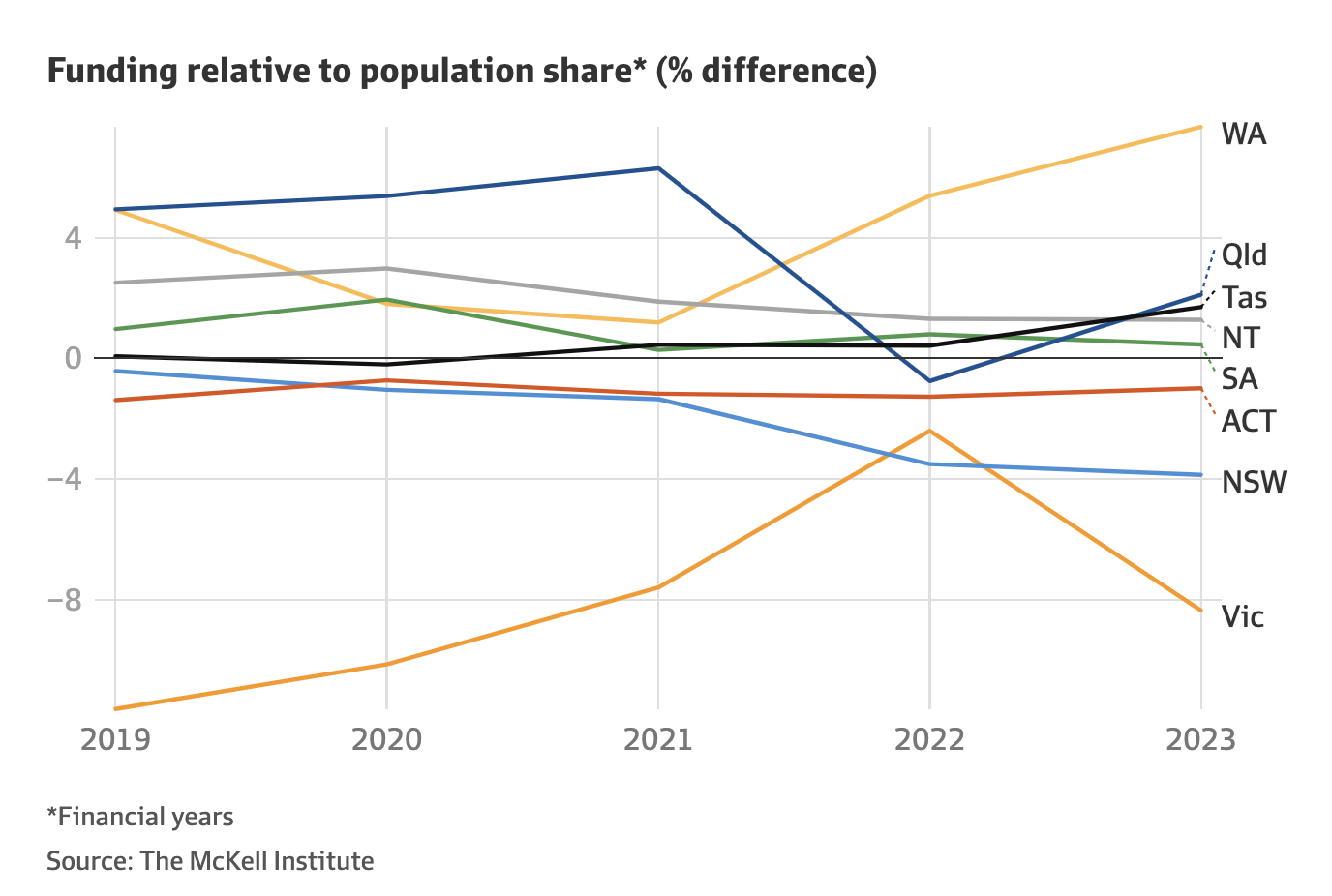 NSW received a federal allocation of $1 billion just before budget, taking its total allocation for fiscal 2023 to $4.5 billion. Dollar-for-dollar, the investment is the highest in the country but on a per capita basis, it's remained the equal worst funded with the funding gap widening from minus 3.5 to about minus 4 per cent.
Victoria received a $2.57 billion commitment to be put towards its long-dated Suburban Rail Loop project, which is more than 20 years away from completion and has already doubled in cost from initial estimates of $50 billion to $125 billion.
For fiscal 2023, the state's total infrastructure allocation was $2.8 billion, which represents a funding gap relative to population size from minus 2.8 per cent to more than minus 8 per cent – the widest in the country.
But in a separate payment, Victoria also received another $6 billion federal funding commitment to bankroll a slew of renewables projects, including the Marinus Link transmission cable crossing the Bass Strait to link the state's telecommunications and electricity systems with Tasmania. However, that funding package is separate from the infrastructure payments.
The projects under way in NSW are worth more than $84 billion relative to Victoria's $69 billion. Both states invest the equivalent of about $10,000 per capita per year in infrastructure projects, compared with about $2000 of federal funding. Western Australia spends about $4000 per capita on its infrastructure program, compared with $7000 in Queensland and $8000 in Tasmania.