By Paul Sakkal. Published in The Age.
Read the article on The Age website here. 
Lord Mayor Sally Capp is demanding a multi-billion dollar second metro tunnel to avoid Melbourne falling behind international cities, but outer suburban councils are pleading for a bigger share of the state's transport funding to curb growing social and economic inequality.
In duelling pitches for future infrastructure spending, mayors representing the inner city want the state government to boost the environment and social connectivity, while their outer-suburban counterparts insist social dislocation in Melbourne's fringe needs fixing.
Capp will call for the government to kick-start Melbourne's economy as a "national imperative" when, on Thursday, she launches a new lobby group of nine councils – Melbourne, Darebin, Hobsons Bay, Maribyrnong, Moonee Valley, Moreland, Port Phillip, Stonnington and Yarra – called M9.
The group, representing an area responsible for a third of the state's total economic output, will be a singular voice for Melbourne and its surrounds.
In her speech on Thursday, Capp will call on the government to embark on early works and scoping for the Metro 2 project, a $12 billion-to-$20 billion project that Infrastructure Victoria and other rail groups have called for.
"Other international cities are making extensive and rapid commitments to accelerate increased sustainable mobility options to move more people in and around cities," she will say.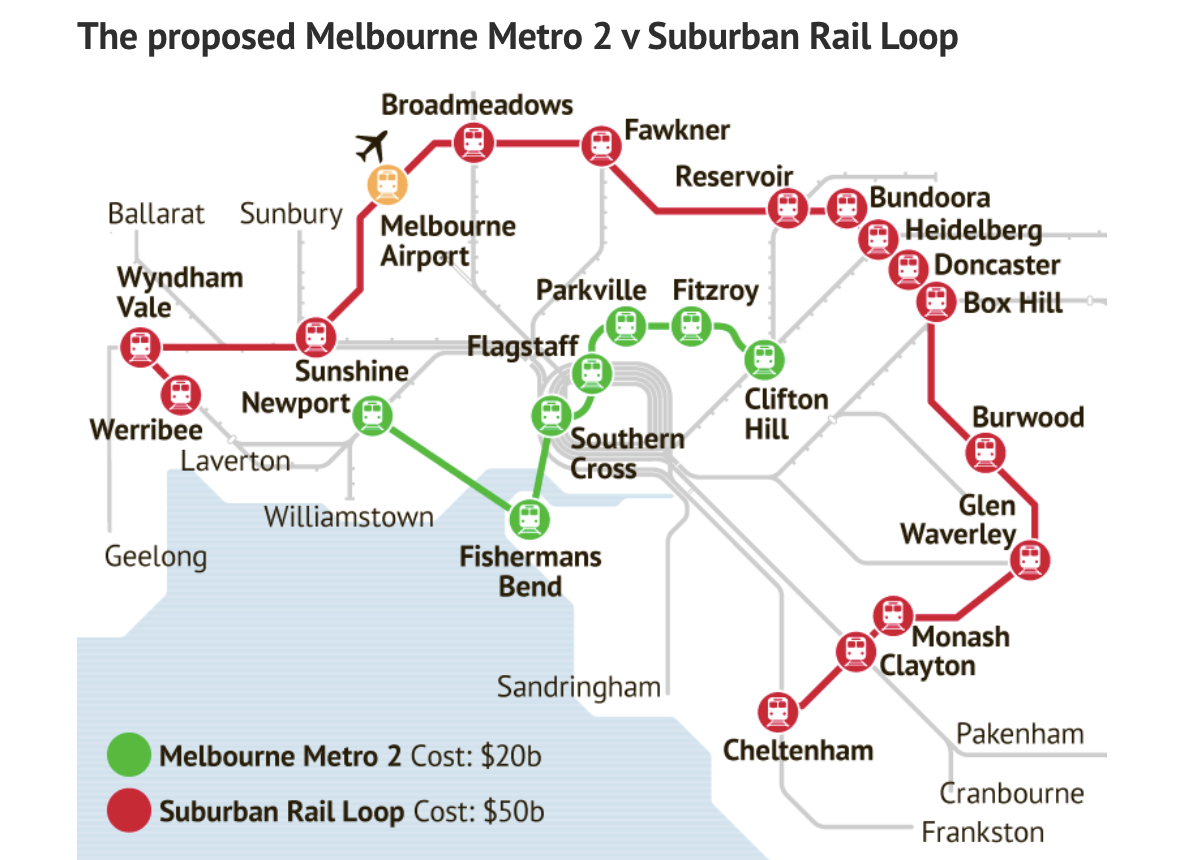 "We believe more can be done to ensure M9's connectivity reaches the coveted status that Melbourne deserves.
"M9 believe the single greatest opportunity to improve connectivity is the preparation of
Melbourne Metro 2," Capp will argue, referring to the proposed tunnel connecting Newport to Clifton Hill.
"We can't afford for Melbourne to fall behind."
The lord mayor will expound the importance of inner Melbourne at Victorian parliament at the same time as an event in the same building, hosted by the group of 10 councils that straddle the boundary between metro and regional Melbourne.
The Interface Council group – Cardinia, Casey, Hume, Melton, Mitchell, Mornington, Nillumbik, Whittlesea, Wyndham and Yarra Ranges – is armed with a report from the Labor-aligned McKell Institute showing that access to transport and jobs is worse for geographically and financially disadvantaged Melburnians than in any Australian city.
The groups' competing pre-election demands illustrate the divide between cosmopolitan city-dwellers – who at the federal election swung to Labor, Greens and "teals" – and suburban Australians who shifted away from Labor, and to a lesser extent the Liberal Party, toward right-wing populist parties.
The Liberal Party will battle progressive independents in inner-city seats such as Hawthorn and Caulfield while attempting to win the votes of disaffected Labor voters in underprivileged growth areas at November's state election.
The McKell Institute report, Addressing Infrastructure Inequality, notes Victoria spends more on infrastructure than any state but the gap between public transport options for low and high-income earners is worse in Melbourne than other cities.
"Access to infrastructure is unequal and strongly reflects the regional and metropolitan divide, household incomes, and historic disadvantage. While access to health services, education, and jobs remain unequal, there is no equality of opportunity," the report states.
The proportion of jobs accessible from a person's home decreases proportionally with each Australian city's population size.
However, Victoria and NSW have an equal proportion of these types of jobs, indicating Victoria, with its smaller population, underperforms.
Of the nine Interface group councils with available data, eight rank in the bottom third for transport access statewide. They also have fewer libraries and swimming pools and less open space.
The report, which will be presented on Thursday, calls for the Victorian government to convert the Level Crossing Removal Authority into a body responsible for addressing infrastructure inequality once the level crossing program ends.
It urges greater co-operation with billion-dollar infrastructure funds to secure investment as growing state debt hampers government spending.